CHIMNEY CREEK HISTORICAL MARKERS
G.R. DAVIS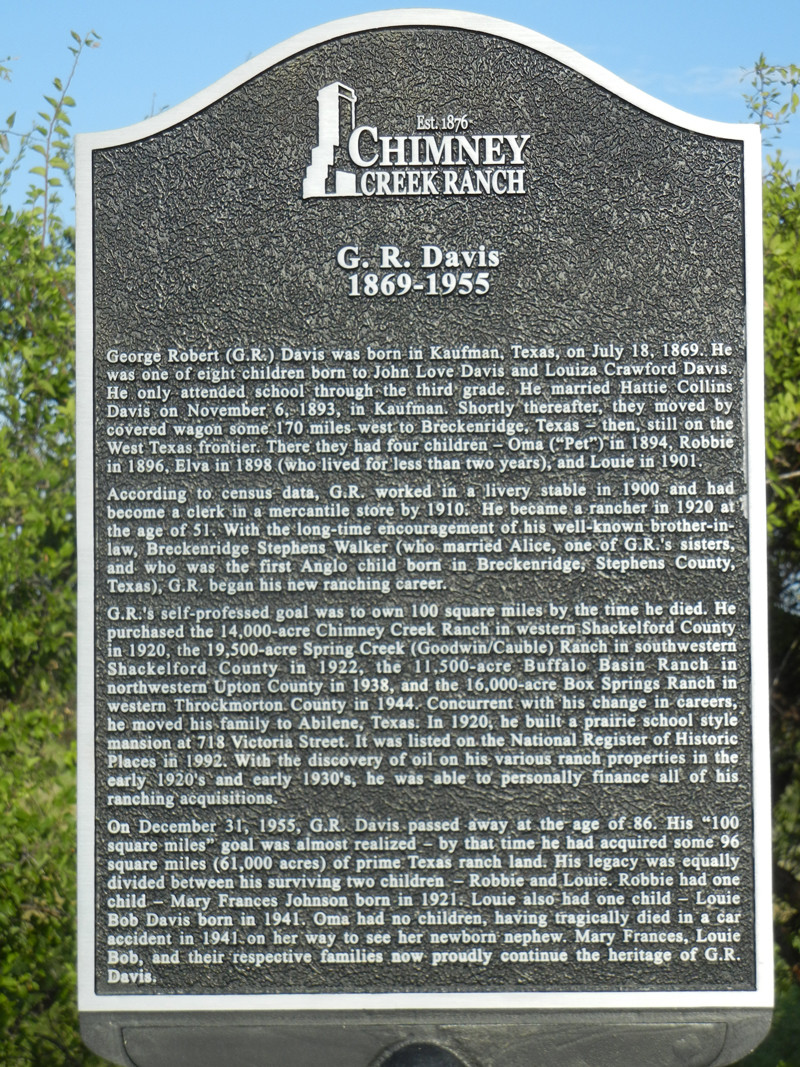 In 1920 G.R. Davis built a prairie school style mansion at 718 Victoria Street in Abilene, Texas.  It was listed on the National Register of Historic Places in 1992.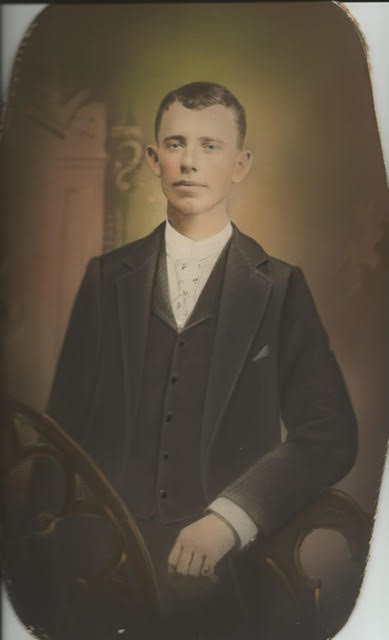 CABLE TOOL OILFIELD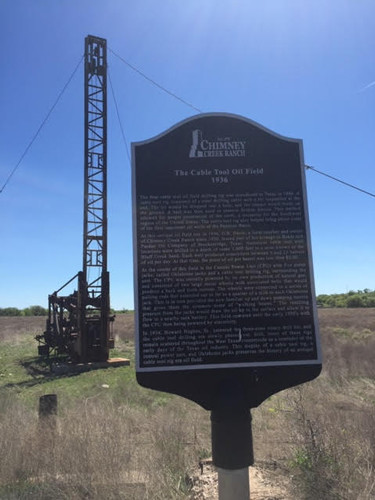 The Cable Tool Oil Field - The first cable tool oil field drilling rig was introduced in Texas in 1866.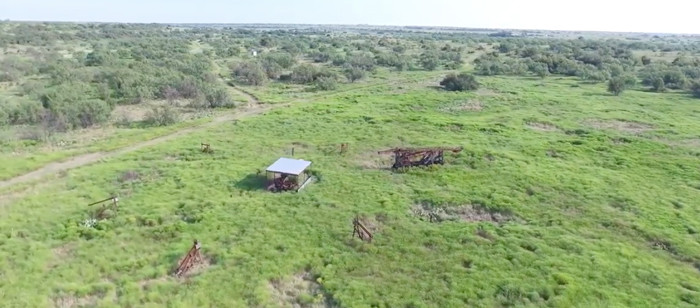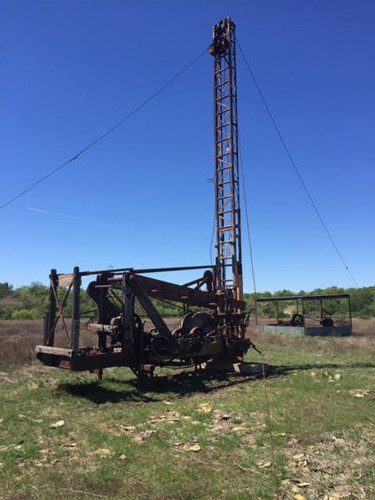 COLD WAR HARDLINE COMMUNICATIONS PIT
Cold War Hardline Communications Pit - In 1961, Dyess Air Force Base, of Abilene, Texas, was one of six United States Air Force bases selected to host the Atlas F Intercontinental Ballistic Missile (ICBM) system.  Twelve launch sites, complete with launch control centers and silos, were constructed in a pattern that encircled Abilene.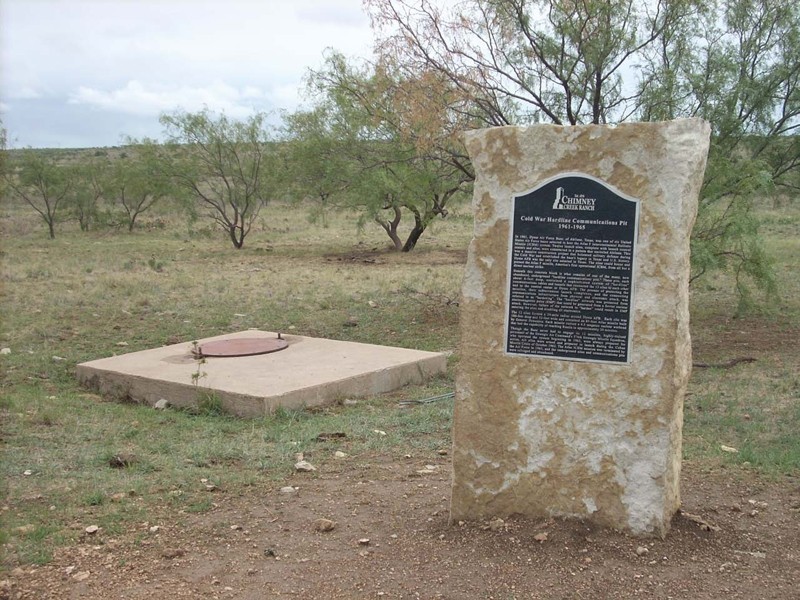 GEORGE ROBERT DAVIS HOME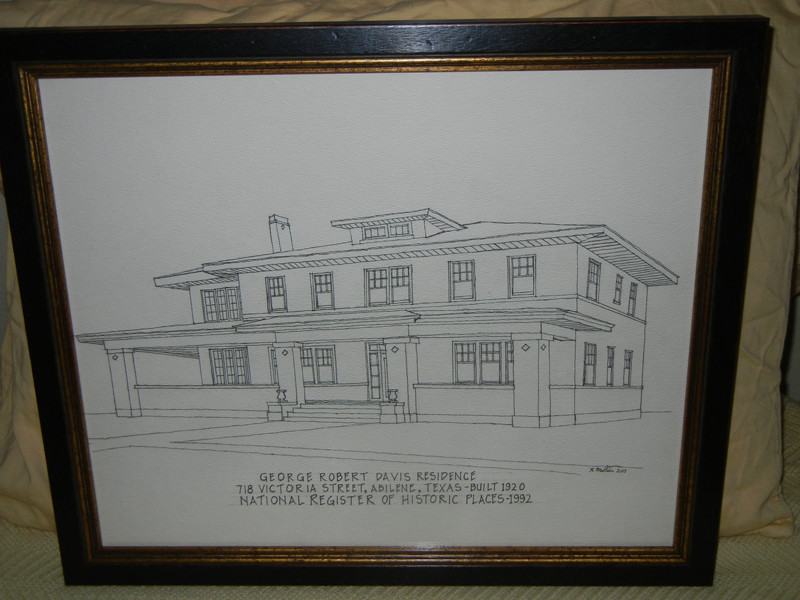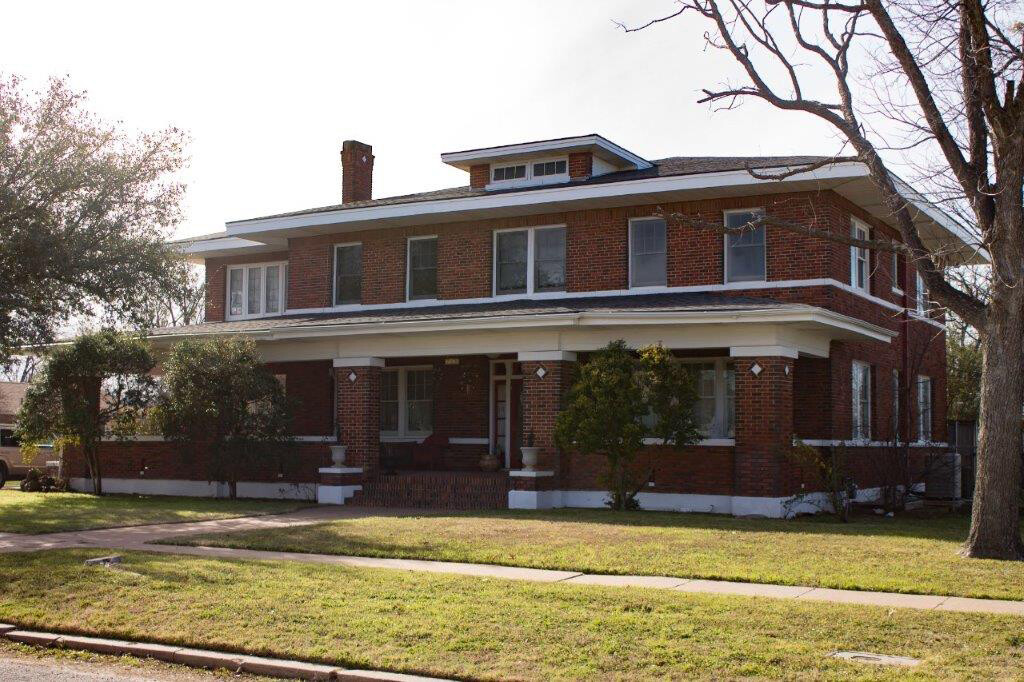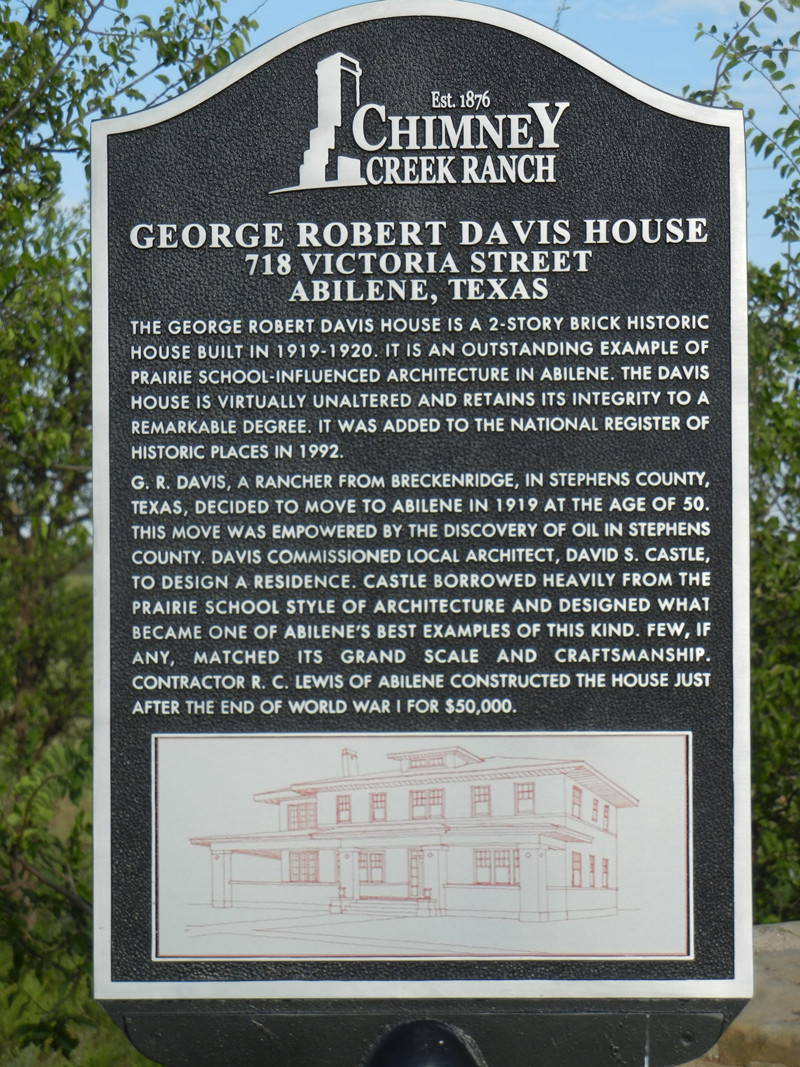 HANK SMITH WATER WELL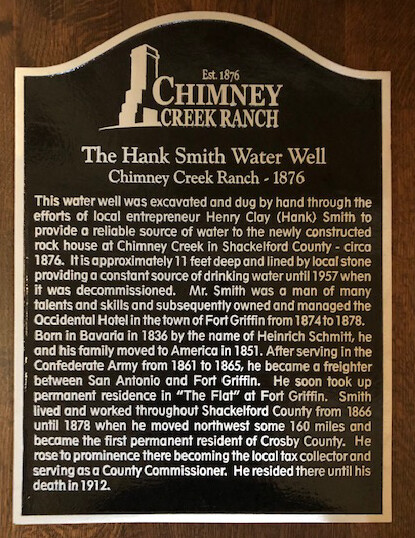 CHIMNEY CREEK RANCH - 1876
This water well was excavated and dug by hand through the efforts of local entrepreneur Henry Clay (Hank) Smith to provide a reliable source of water to the newly constructed rock house at Chimney Creek in Shackelford County - circa 1876. It is approximately 11 feet deep and lined by local stone providing a constant source of drinking water until 1957 when it was decommissioned. 
Mr. Smith was a many of many talents and skills and subsequently owned and managed the Occidental Hotel in the town of Fort Griffin from 1874 to 1878. Mr. Smith was born in Bavaria in 1836 by the name of Heinrich Schmitt, he and his family moved to America in 1851. After serving in the Confederate Army from 1861 to 1865, he became a freighter between San Antonio and Fort Griffin. He soon took up permanent residence in "The Flat" at Fort Griffin. Smith lived and worked throughout Shackelford County from 1866 until 1878 when he moved northwest some 160 miles and became the first permanent resident of Crosby County. He rose to prominence there becoming the local tax collector and serving as a County Commissioner. He resided there until his death in 1912.
JOSEPH "JOE" MATTHEWS CONRAD
1882-1906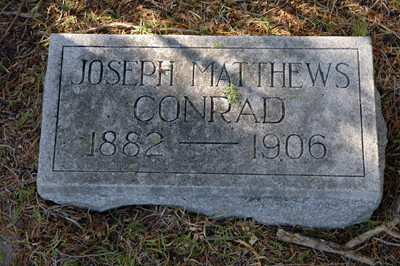 Joe Conrad lost his life on September 7, 1906, at his family's Chimney Creek Ranch west of Albany, Texas. He and some fellow cowboys were breaking broncos near some pens at the barn. His horse ran under a tree, dislodging him from his saddle. In the fall, he sustained fatal injuries as his skull was crushed. A doctor was summoned, but Joe died before anything could be done to save him.
Joe was born in 1882 to Frank Eben Conrad and Rose Ella Matthews Conrad. He was formerly a book keeper for a short time with the First National Bank of Fort Worth. At the time of his death, his trunk was packed to accept a position with the First National Bank of Stamford.
His new job was scheduled to begin on September 13, 1906. His body was temporarily interred on the ranch until undertaker A. C. Greer of Stamford was able to travel by horse and wagon the 27 miles from Stamford. He then completed the funeral arrangements in Albany some additional 16 miles to the east. Ironically, his funeral
took place on the date he was to begin work in Stamford.
According to the tribute published in the Albany News the day after the funeral, it was the largest funeral procession ever seen in Albany at the time. Further, it was reported that Joe Conrad's honest nature was "as open and clear as the light of day."
100 Year Anniversary Marker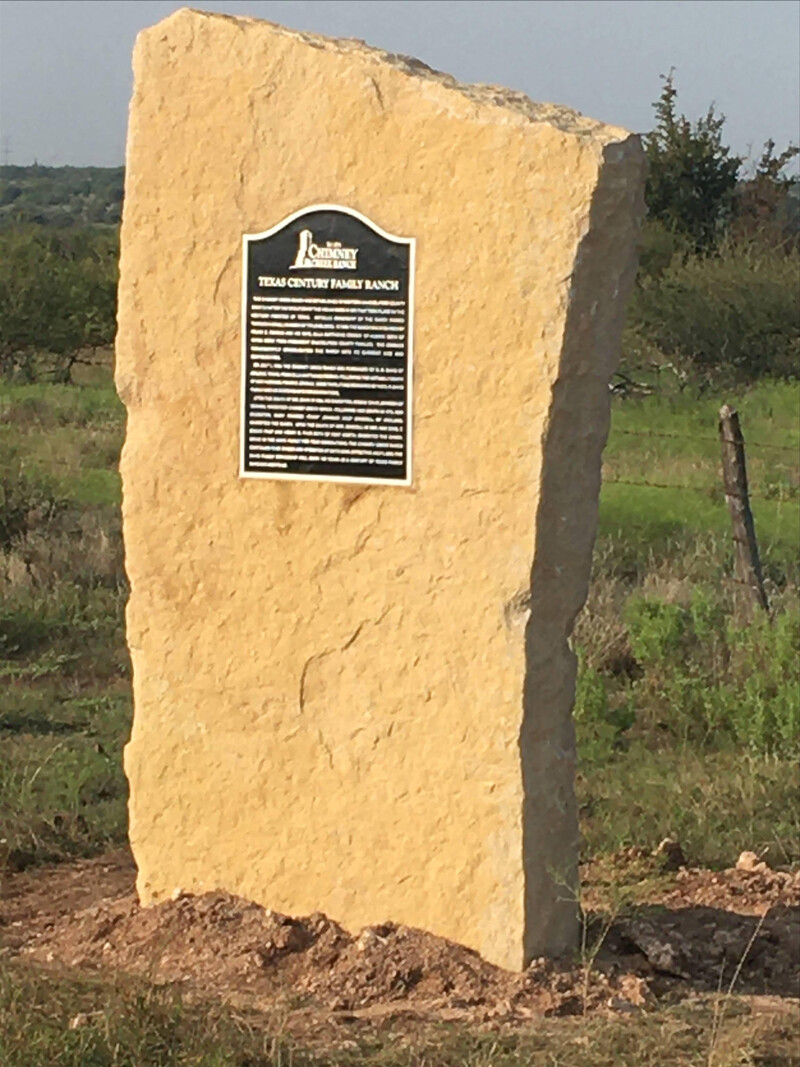 The Chimney Creek Ranch was established in western Shackelford county shortly after the cessation of the Indian Wars in 1876 that took place on the western frontier of Texas. Initially, ownership of the ranch passed through a small number of titleholders. In 1888, the ranch was acquired by Frank E. Conrad and his wife, Ella Matthews Conrad, of Albany, both of whom were from prominent Shackelford county families. The Conrads subsequently consolidated the ranch into it's current size and configuration.
On July 1, 1920, the Chimney Creek Ranch was purchased by G. R. Davis of Abilene, Texas, from Ella Matthews Conrad, following the untimely death of her husband, Frank E. Conrad. Since then, it has remained in the G.R. Davis family and his descendants for generations. Upon the death of Mr. Davis in 1956, his daughter, Robbie Davis Johnson of Vernon, inherited Chimney Creek Ranch. Following her death in 1973, her daughter, Mary Frances "Chan" Johnson Paup Driscoll, of Midland, inherited the ranch.
Upon the death of Mrs. Driscoll in 2007, her sons, T. Edgar Paup and Henry B. Paup, both of Fort Worth, inherited the ranch. Being in the Davis family for four generations, the Chimney Creek Ranch continues to be owned and operated by both sons. Effective July 1, 2020, the Davis family ownership will mark 100 years as a century of Texas family ranching heritage.