There is an abundance of wildlife on the Chimney Creek Ranch. The land was once the range of buffalo and the Comanche Indian who depended on the shaggy bison for food and shelter.
Since the demise of the buffalo, it has been a cattle ranch and home to many species of wildlife including deer, quail, coyotes, snakes, and even an occasional bobcat.
SCHOLARSHIP PROGRAM
Robert B. Waller Endowed Graduate Scholarship - the Scholarship is awarded annually to a full time graduate student in the Department of Wildlife, Sustainability and Ecosystem Sciences.  Learn more...
2 Texas brothers, 2 Trophies!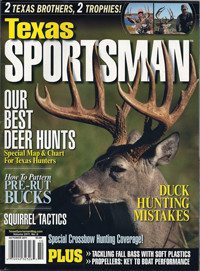 Chimney Creek was featured in the Texas Sportsman Magazine in a hunting story about two brothers on the ranch.