CHIMNEY CREEK RANCH PUBLICATIONS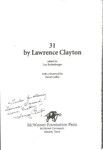 A historical summary of the ranch as published by Lawrence Clayton in his book entitled "31", Chapter 17, "Chimney Creek Ranch: An Historical Account and Personal View of a Shackelford County Ranching Heritage".
Southwest of present-day Albany the land rises on limestone hills where, especially in rare wet spring seasons, the rolling landscape is covered with waving grasses and wildflowers.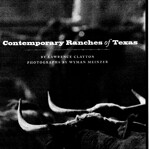 Contemporary Ranches of Texas - The History and Current Operations of sixteen Working Ranches in Texas, authored by Lawrence Clayton with photography by Wyman Meinzer, official State Photographer of the State of Texas, published in 2001.
Since the demise of the buffalo, it has been cattle range cut into numerous ranches both large and small. Chimney Creek is mostly rolling plain, but to the east the land is broken by canyons and draws.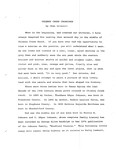 Chimney Creek Crossings: an essay by Mary Frances "Chan" Johnson Paup Driscoll, December 25, 1981
When in the beginning, God created our universe, I have imagined him resting his seventh day in the middle of Chimney Creek Ranch.
Chimney Creek Ranch, Texas A&M University Press, Commemorative Edition.
Those fortunate enough to own Texas ranches know that, though the land endures, changes inevitably come to the people and man-made structures associated with them. Chimney Creek Ranch is no exception.In the twenty years since Lawrence Clayton wrote this narrative, Chimney Creek Ranch has experienced significant changes. And so, the time seems appropriate to issue a new edition of Clayton's history, in celebration of those developments and in commemoration of the losses that they have entailed.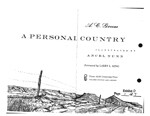 Excerpt from "A Personal Country" by A.C. Greene published in 1969, Chapter 13, "The Butterfield and I", pages 201-206. Reflects observations of the Butterfield Stage and Chimney Creek Ranch.